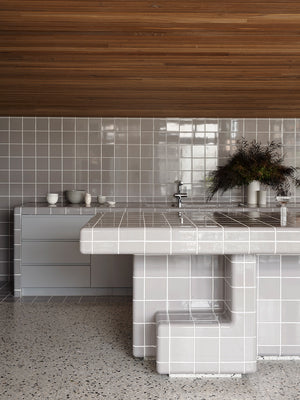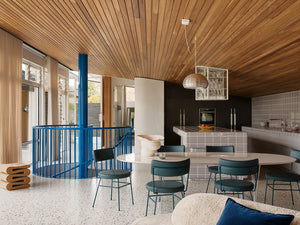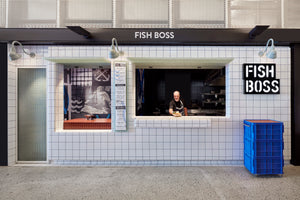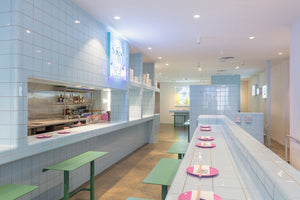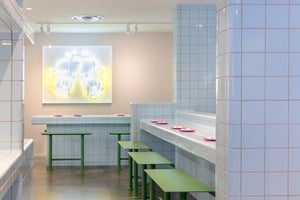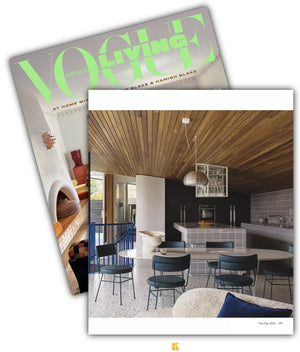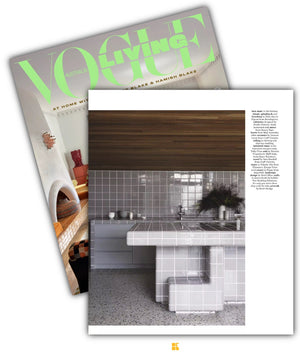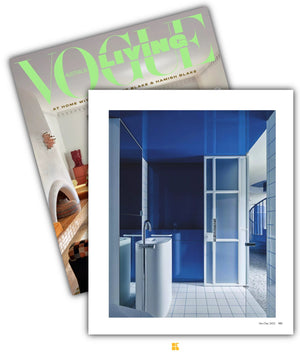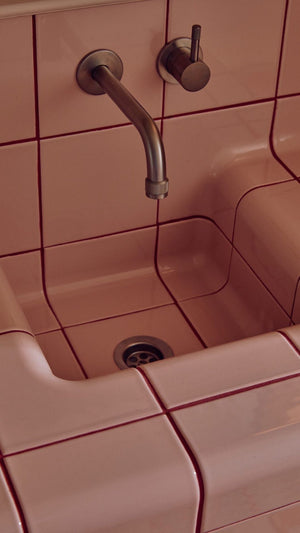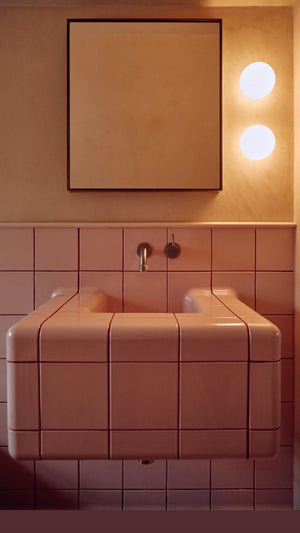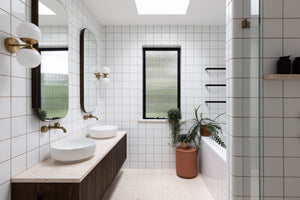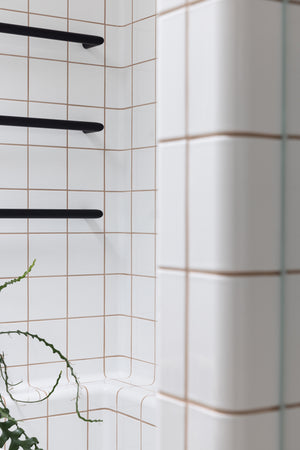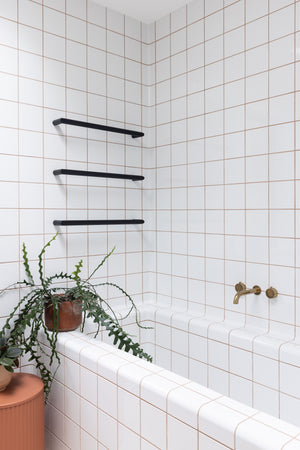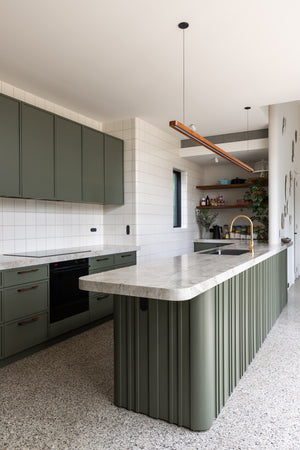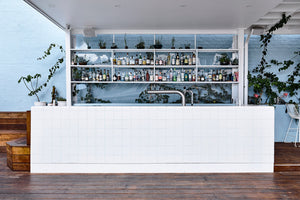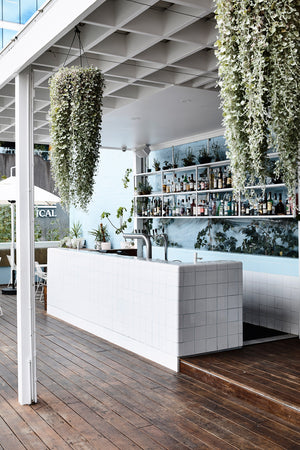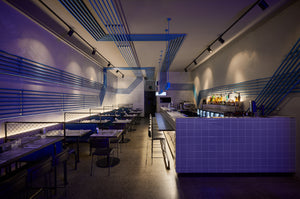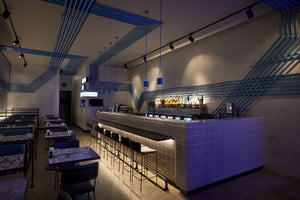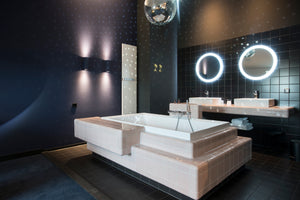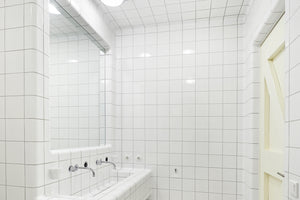 The Netherlands
The world's most versatile tile available exclusively through Mondopiero.
Phillipe Starck, Marc Newson, Droog Design and Wilson Holloway all specify DTILE. Why? Simply this: The DTILE system takes a designer's curliest, curviest swoops of imagination. And makes them happen. It is, truly, The Versatile.
Designed in The Netherlands, DTILE offers you the freedom to blanket any space, surface or object in a single, smooth, uninterrupted sweep of tile work. Across the floor, up the wall, over the edge, round the bend, wet/dry, indoor/outdoor — DTILE has it all covered. Beautifully.
Practically speaking, the DTILE system comprises 150 X 150 cm flat tiles, 'construction' tiles and 'function' tiles in 20 stock colours. The rounded construction tiles offer seamless coverage around corners and curved surfaces while their functional counterparts integrate drains, air vents, shelves, hanging hooks, magnets, and other essential practicalities. Waterproof, easily cleaned and slip-resistant, they are, of course, ideal for areas where hygiene and safety are vital. 
DTILE designers work constantly to improve and expand the design possibilities of a much-awarded system showcased in design museums throughout Europe. The team warmly welcomes new ideas from clients. "We're really surprised with the solutions and designs by some users," says DTILE co-founder Peter van der Jagt. 
Little wonder Phillipe Starck specified DTILE for Ma Cocotte restaurant in Paris; Droog Design, for Hotel Droog in Amsterdam; Marc Newson, for the Qantas first-class lounge in L.A.; and Wilson Holloway, for the Shot Café in London. 
Because your DTILE order is manufactured 15,000 kms away in Velp, The Netherlands, Mondopiero is necessarily fastidious about getting every detail, every measurement, every nuance, exactly right before we send the order on your behalf. 
Download a copy of the DTILE 2018 catalogue.
Read Article - Est Living - May 2020, The Icon I The DTILE 
The DTILE system, step-by-step
As exclusive importer and distributor of DTILE in Australia and New Zealand, Mondopiero is pleased to guide you through the design, specification and installation process.
 Construction Tiles
Function Tiles
Download a copy of the product specification details.
Colours
DTILE is available in colour Snow (white) and a wide range of standard colours.
Non-standard colours are available in quantities up to 7 m2 - POA and include:
- Col. 44 - Firefighter Red
- Col. 14 - Prussia
- Col. 13 - Night.
Two anti-slip matt finish tiles are available in colour Talc which matches Snow gloss tiles and Stone which matches colour Pigeon gloss tiles.
Research
For inspiration, visit the DTILE social media accounts to see completed projects from around the world:
If you're an architect or interior designer, the process is simple. If not, we suggest you consult a professional to help with your design and suggest the best way to use DTILE. But first, you could contact us on ciao@mondopiero.com.au or phone 03 9417 7047 to discuss product and process.
You can download the following resources:
Design
The Design process begins with your vision – how you see DTILE working in your space, and possibly the colour you prefer.
We suggest you use the DTILE Sketch Up template to design. The template includes all products – flat tiles, construction tiles and function tiles. Simply drag and drop them into your draft design.
Then, when you're happy, send us your design in SketchUp for a technical review so that any necessary practical changes can be suggested before calculating the tile quantity . 
If you prefer not to use the SketchUp template, send us your design in elevations and plans and we will draft the design for you in SketchUp for your review and comment before calculating the tile quantity.
Tile quantity
Once the design is complete, we can calculate the number of tiles required. The SketchUp template software will calculate how many construction, function and flat tiles tiles will be needed. Mondopiero then recommends a contingency quantity, in case of onsite breakages etc.
Quotation for supply and freight costs, ex. The Netherlands
Mondopiero is now able to calculate the dimensions and weight for delivery from The Netherlands by sea and/ or air freight.
Mondopiero will prepare a quotation from this information including availability/ production lead time, supply price ex. The Netherlands, and sea and/or air freight price including duties and GST.
Availability:

As stock is not held in Australia and each order is custom-produced at DTILE, there may be production lead times of 16 weeks before your order is dispatched by air or sea freight.

Delivery from DTILE, NL:

Please note that in in addition to production lead time for tiles, sea freight delivery takes approximately 8-10 weeks and air freight delivery takes approximately 2 weeks from DTILE, NL to Australia.
Confirmation of order
To confirm your order, a 50% deposit is required and balance is to be paid before delivery to site.
Please note that depending on availability and choice of air or sea freight delivery for your order, it may take up to 20 weeks before you receive the tiles.
Materials and Tiling
While the tiles are being produced and freighted to you, your builder/cabinet maker/tiler), can plan, build and prepare the surfaces/ substrata to be tiled.
We recommend the use of reinforced foam as an intermediate layer between the surface and tile as it doesn't shrink or expand. It's lightweight, watertight and easy to apply.
Where moisture is expected, we recommend that under no circumstances you use materials susceptible to moisture. For example, plasterboard, wood or compound wood (e.g. ply board, chipboard or MDF, even if these are claimed to be "waterproof"). When absorbing moisture, these materials will expand, with significant negative consequences. 
The market offers several waterproof materials, especially suited for tiling. 
Examples of reinforced foam include:
Please contact us on 03 9417 7047 or ciao@mondopiero.com.au should you require any assistance with the DTILE installation process.
Fish Boss, Perth Image: Design Theory and Jack Lovel Photography ©.
Rebel Blue, Prahran Images: Blackmilk Design and Tom Roe Photography ©.
Ban Ban, Franklin Street, Adelaide Images: Genesin Design and Andre Castellucci ©.
Peaches Roof Top Bar, Melbourne Images: Pierce Widera Design ©.
Duncan House Renovation Bathroom and Kitchen Images: Weir Phillips Architects, Watermark Constructions and Simon Whitbread Photography ©.