As an architecture student, Piero Gesualdi dreamed of opening an outlet that celebrated brave ideas, quality, and fine craftsmanship. Fifty years on, in tandem with his can-do partner Michele Azzopardi, it finally happened.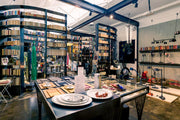 The Mondopiero idea brought together all Piero's interests, passions, energies and sensibilities but he knew he needed someone special to help him make it real. And Michele Azzopardi ticked all the boxes.
Renowned for decades as a true trail-blazer in Australia's fashion and design scene, Piero Paolo Gesualdi had founded the iconic Masons stores in Melbourne and Sydney in the mid-70s. There, alongside his own designs bearing his own label, he revolutionised the local fashion scene by introducing names like Jean Paul Gaultier, Comme des Garcons and Giorgio Armani.
A decade later, restless to spread his wings, he took over a cavernous space in the then moribund Flinders Lane, lavished it with flamboyance, flair and and a fair swag of galloping egotism, and opened a restaurant that became the super-stylish Melbourne watering hole for silly people with silly money to spend. The legendary Rosati. He soon followed this with the equally-celebrated Pieroni's in South Yarra. In each establishment, the architectural and conceptual footprint was pure Gesualdi: bold, beautiful, and startlingly original. 
In 2014, he was inducted into the Stonnington Fashion Hall of Fame and, a year later, into the Design Institute of Australia (DIA) National Hall of Fame.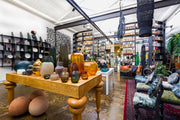 With 30 years of project management on her CV, Michele was exactly the can-do colleague Piero needed to guide the practicalities of the business – and to ground his flights of fancy. No stranger to the world of design, she had worked for the management of the 2000 Venice Biennale. Then as founding Director of Design Victoria, she showed business people how good design could improve their bottom line – and how, in turn, designers could do better business with business people. Today, at Mondopiero, in addition to her vital front-of-house presence, she deals with the complex architectural/ engineering aspects of the company. Absolutely ideal!
"This whole machine can't work without Michele!" says Piero.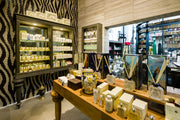 Photo Credits (Piero & Michele) - Tim O'Connor - Photographer.
(Mondopiero Store) - Sydney Low - Photographer