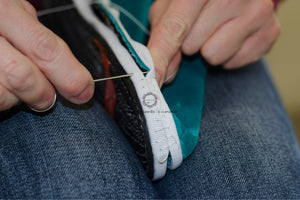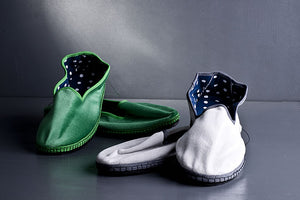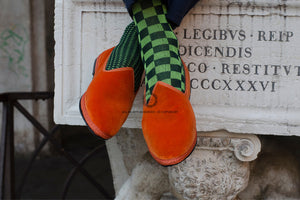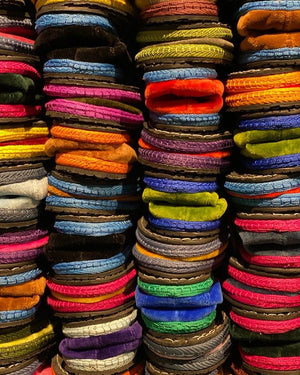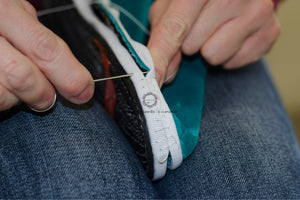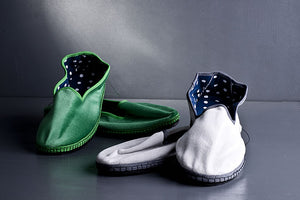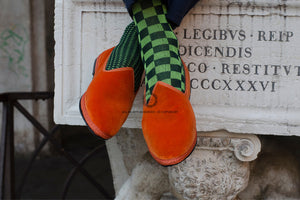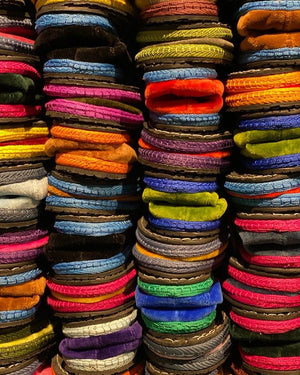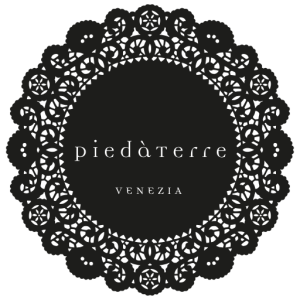 Italy
They're talking, of course, about the furlane – the funky footwear of Italy's Friuli region. Knocked up by necessity out of rags and bags and bike tyres in the lean latter days of World War II, these peasant shoe-slippers found their way to Venice where gondoliers wore them because the soft rubber soles helped preserve their precious paintwork. From there, of course, the fashionistas slipped into them and furlane now stride forth as the chic casual footwear of choice all over Italy.
Mondopiero sourced our riotously-colourful Rimbaud range of furlane from Alessandra and Renato's renowned Pied a Terre just up the road from the Rialto.
Piedaterre Sizes
We recommend choosing the bigger size for 1/2 sizes and an additional size for wider feet.
| | | | | | |
| --- | --- | --- | --- | --- | --- |
| Europe | UK | USA woman | USA men | Japan | Cm |
| 37 | 4 | 7.5 | 6 | 23 | 23.8 |
| 38 | 5 | 8 | 6.5 | 24  | 24.5 |
| 39 | 6 | 9 | 7.5 | 25 | 25.1 |
| 40 | 6.5 | 9.5 | 8 | 25.5 | 25.8 |
| 41 | 7 | 10 | 8.5 | 28 | 26.5 |
| 42 | 7.5 | 11 | 9 | 26.5 | 27.2 |
| 43 | 8.5 | 12 | 10.5 | 27.5 | 27.9 |
| 44 | 9.5 | 13 | 11.5 | 28.5 | 28.6 |
| 45 | 10.5 | 14 | 12.5 | 29.5 | 29.2 |