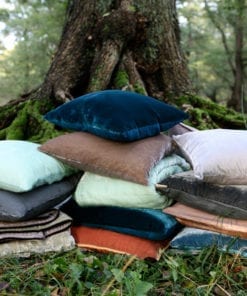 Fabric Copenhagen
Denmark
Fabric Copenhagen designs and manufactures an exclusive and embracing range of textile-products for homes and hotels worldwide. Inspired by the eclectic bohemian twenties and eastern spirituality new unique collections are continuously introduced.
PRODUCTS: Today, Fabric Copenhagen has a broad pallet of products including linen, cotton and silk qualities.
SILK: The design line of silk contains a pure velvet line, a velvet-silk line and a pure silk line. The different design-lines all combines in a harmonic and inspiring way to a Bohemian luxurious look. All Fabric Copenhagen silk blankets are hand-quilted. The velvet lines are all produced from the finest quality natural product silk weaves and quilted by hand. The filling is polyester, which makes them washable in water at 30 degrees wool wash and flat dry at room temperature. The silk velour designs reflect the Vietnamese appreciation of aesthetics, the embracing calm atmosphere and approach to life. The colorful collection includes quilts, bedspreads and pillows in various formats.